June 8, 2021
We are #FerryProud to feature members of the LGBTQ+ community throughout June!
Our Riders make us who we are! Throughout the month, we will be interviewing riders in the LGBTQ+ community who will share stories of what Pride Month and the NYC Ferry mean to them.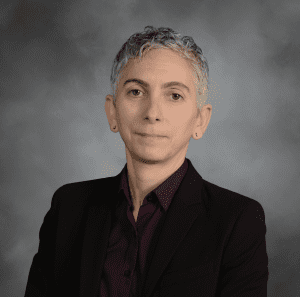 Dr. Jess Zonana, M.D.
Jess Zonana, M.D. specializes in LGBTQ+ issues and her mission is to help improve the accessibility and quality of mental health care to the community.
1. What is your job title?
My day job is Chief of Adult Outpatient Services for Psychiatry at the Payne Whitney Clinic of New York Presbyterian Hospital-Weill Cornell Medical Center. My volunteer job is Medical Director and Faculty Sponsor for the Weill Cornell Medicine Wellness Qlinic, which is a student-run free, mental health clinic for the LGBTQ+ population of NYC. In this role, I oversee the patient care, operations, and related academic and clinical training for medical students, psychiatry residents, psychology interns, and social workers. This incredible program was conceived and implemented by superstar Weill Cornell medical students, accompanied by the dedication and expertise of our mental health director, Dr. Jess Spellun.
2. What does pride month mean to you?
Pride month has several important meanings to me – Pride originated in protest and activism against violence, injustice, and discrimination toward members of the now-LGBTQ+ communities and there is still so much work to do. Celebration and pride are important forms of protest and advocacy. So for me, Pride represents all of these purposes – it is an opportunity to celebrate the strengths and richness of our communities while shining a light on areas of need, inequality, and discrimination. This includes addressing the mental health care needs of LGBTQ+ communities.
3. What do you love the most about NYC?
NYC remains one of the gay and queer meccas of the world, with so many different queer cultures thriving here. There's really something and somebody for everyone. And the food.
4. Who has inspired you the most?
I really admire my gay/queer/trans predecessors who paved the way for my generation and the next to advance visibility and freedom for all queer folk, politically and culturally. Lesbian and other queer artists have played an incredibly important role in developing my personal sense of the LGBTQ+ community. Arts have always pushed our society forward while everyone else argues over how [or how not] to implement progress.
I admire activists and change-makers that work outside of mainstream institutions as well as those that work from within. We need both. Healthcare and mental healthcare desperately needs these pioneers to enable equitable mental healthcare and mental health.
5. What is the most rewarding aspect of working in your field?
Providing free and quality mental health care to the LGBTQ+ population of NYC is incredibly rewarding, knowing that we serve a population at higher risk for mental health conditions who often have had negative experiences finding or receiving care. At the same time, we are training the next generation of doctors and therapists to treat LGBTQ+ patients with knowledge and sensitivity.
I love being able to connect and care for people who are reaching out for help with their mental health, often for the first time. It's very meaningful to help people get back to a place of hope no matter what their past or circumstances. I am also inspired by the enthusiasm and ingenuity of students and psychiatry residents, as they engage with psychiatry and help move our field forward, making it more inclusive for both patients and doctors.
6. What message would you like to send to the younger LGBTQ+ Community?
We need your engagement and energy to make the changes to healthcare and mental healthcare delivery that will address inequities and tragedies of the past and present affecting LGBTQ+ communities.
LGBTQ+ communities may have higher rates of mental health conditions but we also a history of resilience. We need visionaries who can unite, partner, and make changes to our institutions to enable even the most vulnerable and under-resourced members of our population to thrive.
If you are struggling individually, seek out support and treatment. If you are having suicidal thoughts, take that difficult step of asking for help. Persevere through the process of getting treatment. Anxiety, depression, PTSD, bipolar disorder, and suicidality are all treatable, even if you feel stuck in your circumstances. Addressing your internal struggles with a doctor or therapist will help you survive and make change through difficult times.
Follow us on IG @NYCFerry to meet more of our #FerryFeatures throughout Pride Month!