Covid Response
Safe Travels with NYC Ferry
What To Know Before You Go
At NYC Ferry, the safety of our riders and crew is of the utmost importance. It is our objective to provide New Yorkers with a safe way to travel through the waterways of New York City. Our face-covering policy, safety-guidelines, and enhanced safety measures detailed below are designed to keep each other safe.  We're all in this together – let's keep each other safe.
FACE-COVERINGS ARE REQUIRED TO BOARD & RIDE NYC FERRY

Masks are required to board and while onboard the inside cabin except for brief periods while eating, drinking, or taking oral medications. While indoors, prolonged periods of mask removal are not permitted for eating or drinking – masks must be worn between bites and sips.
Those riders under the age of 2 years are not required to wear a face-covering. Those riders with a medical condition that excludes them from wearing a mask must apply 6ft between themselves and other riders while onboard NYC Ferry.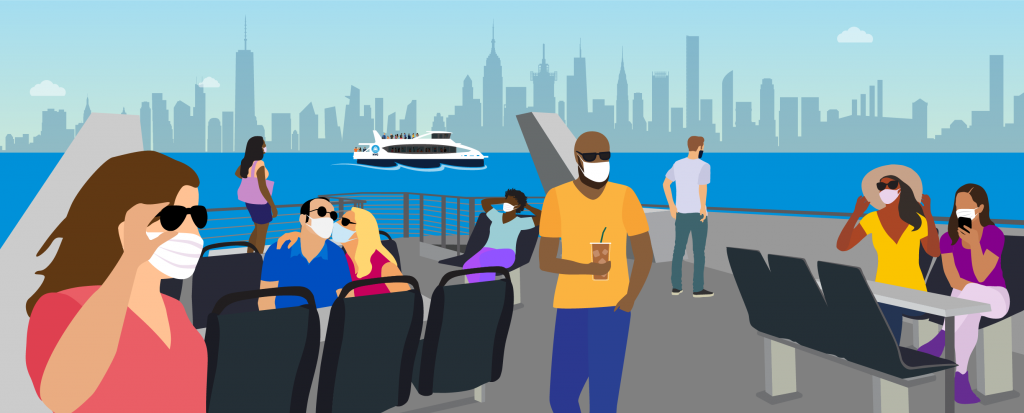 RIDER GUIDELINES
Wear your mask at all times
Maintain 6′ social distance between yourself and other riders.
Avoid touching your face
Wash your hands frequently. We have hand sanitizer stations located on the main deck of all NYC Ferry boats
ENHANCED SAFETY MEASURES

During this time, NYC Ferry has enhanced our safety procedures to protect our riders and crew.
These enhanced measures include:
Personal Protective Equipment provided to NYC Ferry crew members
Social distancing boarding and riding procedures
Hand-sanitizer dispensers located on the deck of all NYC Ferry boats
Contactless boarding with the NYC Ferry App
Frequent cleaning of high-touch areas throughout the day
NYC Ferry App for contactless ticket transactions and boarding
ENJOY A CONTACTLESS RIDE WITH THE NYC FERRY APP

We've recently launched a new NYC Ferry APP to provide you with enhanced features to make your ride a smooth one.
With the NYC Ferry App, you can:
Purchase and store NYC Ferry Tickets
Enjoy contactless boarding
Plan your trip
Receive real-time notifications and alerts
Track your ferry in real-time
For a contactless ride, download the NYC Ferry App.

Covid-19 Testing
Free Covid-19 testing is now available in New York City at more than 100 locations across the city. Please visit (https://www1.nyc.gov/site/coronavirus/get-tested/covid-19-testing.page) for more information.