September 27, 2022
This month is all about our Soundview route which extends from Throgs Neck in the Bronx to Pier 11 in Lower Manhattan. We will be exploring a few of the landings, sharing places to visit and experience along the way!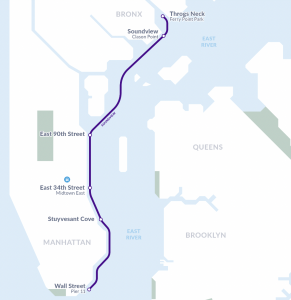 Stuyvesant Cove
? Eleni's
Eleni's restaurant is a delicious journey that takes you on a trip through Greece in just a few minutes. They offer a personalized experience crafted by Eleni herself. Located within walking distance of our Stuyvesant Cove landing, guests will experience fresh charcoal-grilled fish and meat, delicious appetizers, traditional cheeses, and organic salads.
View this post on Instagram
Eleni's – 226 3rd Ave, New York, NY 10003
? Union Square Greenmarket
The Union Square Greenmarket began with just a few farmers in 1976 and has grown exponentially. In peak season 140 regional farmers, fishers, and bakers sell their products to New Yorkers on Mondays, Wednesdays, Fridays & Saturdays. From just-picked fresh fruits and vegetables, to heritage meats and award-winning farmstead cheeses, artisan breads, jams, pickles, an array of cut flowers and plants, wine, ciders, maple syrup and much more.
View this post on Instagram
Union Square Greenmarket – Union Square W &, E 17th St, New York, NY 10003
? Fotografiska New York
Fotografiska New York is the NYC location of the renowned Stockholm destination for the world's best photography. The building is a registered landmark built in 1894 and originally named "The Church Mission House". Fotografiska was built on the foundation of photography as a haven for inclusivity and free expression.
View this post on Instagram
Fotografiska – 281 Park Ave S, New York, NY 10010
 East 90th Street
? Lexington Candy Shop
Founded in 1925, Lexington Candy Shop is one of New York City's only reminders of the era when soda fountains and luncheonettes were fixtures in every neighborhood throughout New York. Continuously owned and operated through three generations of family and partners, walking into the restaurant has been compared to walking into a time warp.
View this post on Instagram
Lexington Candy Shop – 1226 Lexington Ave, New York, NY 10028
? Carl Schurz Park
This picturesque park, partially hidden along the East River, is one of the city's best-concealed secrets. A stroll along the promenade provides beautiful views of the river, the Roosevelt Island Lighthouse, the Triborough Bridge, Randall's and Wards islands, and, of course, Gracie Mansion, the 18th century mansion that serves as the Mayor's official residence. Carl Schurz Park is one of the city's most dog-friendly–two dog runs offer plenty of space for pups to run around and mingle.
View this post on Instagram
Carl Schurz Park – East 86th Street &, East End Ave, New York, NY 10028
? UES.
This little ice cream shop is hiding a big secret, it doubles as a dimly lit speakeasy if you can find the hidden entrance. When you enter UES, just ask the person behind the ice cream bar "I would like to visit the storage room". This is the secret password to get in!
View this post on Instagram
UES. – 1707 2nd Avenue New York, NY 10128
 Soundview
? Soundview Park
Called the "Gateway to the Bronx River," Soundview Park is situated where the Bronx River opens into the East River. When the City of New York acquired the original 93 acres of land for this park in 1937, the entire area was composed of marshland. Today, the 205-acre park offers six grass baseball fields, a cricket pitch, a running track, a soccer field, six basketball courts, six handball courts, a running track with synthetic turf field, a dog run, walking/biking paths and a performance lawn.
View this post on Instagram
Soundview Park – The Bronx, NY 10473
? Maravillas Bar & Grill
A Bronx restaurant with gracious hospitality and truly authentic Ecuadorian cuisine. A cozy little spot that uses fresh ingredients and generous portions, they'll make you feel like a part of the family!
View this post on Instagram
? CEA-LO Cafe
CEA-LO Cafe showing brings soul food love to the Bronx. You'll find all your favorites on their menu, from chicken and waffles to collard greens to broiled seafood of all kinds. They pride themselves on sharing their favorite flavors with the community.
View this post on Instagram
CEA-LO Cafe – 1003 Soundview Ave, The Bronx, NY 10472
? Soundview Library
The Soundview Branch of The New York Public Library, which opened in 1973, is a bright, airy, one-story, marble building. The branch houses adult, young adult, and children's books, a small Spanish-language collection, and books on tape available for borrowing.
View this post on Instagram
Soundview Library – 660 Soundview Ave, The Bronx, NY 10473
 Throgs Neck
? Ferry Point Park
If you're looking for spectacular views, take a stroll in this expansive Bronx park. With one and a half miles of prime waterfront, Ferry Point Park offers unparalleled views of the East River and Long Island Sound, the Manhattan skyline, and of the Whitestone and Throgs Neck Bridges. The Park also offers playing fields and basketball courts.
View this post on Instagram
Ferry Point Park – 10 Hutchinson River Pkwy, The Bronx, NY 10465
? Brewski's Bar & Grill
A family owned restaurant & bar serving comfort food, craft beer, and more. Hang out in their impressive outdoor space and enjoy some live music!
View this post on Instagram
? Ikko Japanese Steakhouse
Ikko Hibachi & Sushi offers a variation of meat and seafood prepared by a skilled Master Hibachi chefs on your table top grill. Each dish is carefully procured and arranged to enhance your dining experience. This restaurant is great for big parties and celebrations of any occasion!
View this post on Instagram

? La Reina Restaurant
At La Reina Restaurant you can get a taste of Dominican and Puerto Rican cuisines. They serve all your favorites and go above and beyond to make sure you enjoy your meal!
La Reina Restaurant – 3035 Cross Bronx Expressway, The Bronx, NY 10465