March 12, 2021
Join us in celebrating Women's History Month by learning about the determined women who play a major role in supporting our local communities. These community leaders have made strides that have positively impacted our neighborhoods not just today but for years to come. It's women like these, amongst many others, that make New York City an incredible place to live, visit, and explore.
Check out these amazing women who are bettering the communities that are served by NYC Ferry.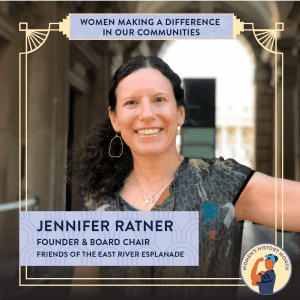 Jennifer Ratner is the founder and Board Chair of Friends of the East River Esplanade (60th-120th Streets), the conservancy for the beautiful stretch of waterfront on Manhattan's East Side. In fact, NYC Ferry's East 90th Street stop sits right in the middle of this stretch of Esplanade. EsplanadeFriends advocates vociferously for an improved and reinvented waterfront — one that the communities of East Harlem, Yorkville, and the Upper East Side deserve.
The group professionally landscapes the waterfront and supports a cadre of volunteer gardeners. The group has presented three acclaimed public art projects along the East Harlem waterfront — most recently the award-winning El Barrio bait station in celebration of the East Harlem fishermen. Pre-pandemic, EsplanadeFriends was especially noted for its series of free, extremely popular live music, ice cream, and family-friendly weekend waterfront events.
Jennifer's vision for a safe and delightful waterfront for generations to come arises from her lifelong love for this Esplanade. She and her hardworking team of EsplanadeFriends board member volunteers, sponsors, and the executive director are passionately trying to make this vision a reality. In her 'real' life, Jennifer is a pediatrician. She also leads art tours around NYC to museums, galleries, and artist studios.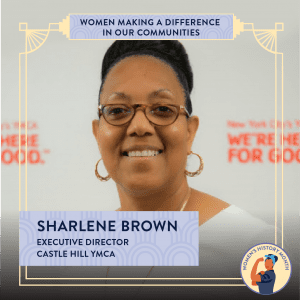 "Working as the Executive Director of the YMCA of Greater New York at the Castle Hill Y in the Bronx gives me the opportunity to inspire action in my community and impact lives. The YMCA is the hub of a community bringing together all New Yorkers to empower youth, improve the health and well-being of individuals, and strengthen communities. Every day at work, I have the satisfaction of knowing my contributions are being meet by working side by side with diverse leaders of different backgrounds, perspectives, and strengths. Through the pandemic, I have discovered new ways to connect with my community, find my purpose, and fuel my passion to help. Ensuring the most needed individuals, our youth continue to thrive."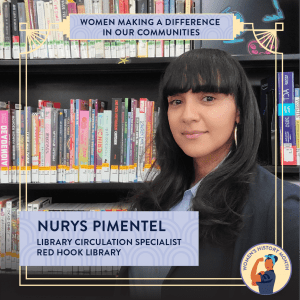 "My community is my passion. I have the honor of working for Brooklyn Public Library, an organization that gives me the opportunity to provide services to my community that didn't always have access to them.  We have special programs that help with literacy, computer training, women's empowerment groups, and storytime. One program that's very dear to me is TASC testing. I did everything necessary to bring this program to our neighborhood, and Brooklyn Public Library recognized all my efforts with a special award — the first-ever Feder Leonard Family Award for Excellence in Service to the Library's Public.
Due to the pandemic, we had to close our doors to the public, but the Red Hook Branch was one of the first branches to provide lobby services to the community. The branch has started a pilot program for patrons allowing them to print materials using our Print Anywhere program.
I was born and raised in Red Hook and pride myself on being a positive role model to all the young ladies who come in every day and see someone that they can see themselves in. I believe in positive reinforcement and making them feel strong, seen, and heard. Letting them know they can achieve everything they want just like me. They can be the difference. They can be someone who this community made, raised, and everyday tries to leave it better than how she found it."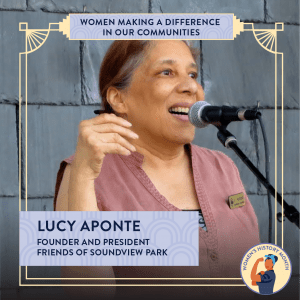 Lucy Aponte is a proud resident, leader, humanitarian, and artist of the Soundview community who is often referred to as a modern-day Renaissance woman. She is a teaching artist, poet, and writer who works with adults with special needs. Ms. Aponte comes from a theatrical family and has done commercials, voiceovers, documentary production, and a theatrical performance.
In 2010, Lucy Aponte founded the Friends of Soundview Park, a group of dedicated, multi-skilled volunteers who serve to educate the community about the importance of the maintenance and sustainability of the park and its waterfront for the future. The group works with many partners to enhance, support, and hold special events within the community. Although the 11th Annual Friends of Soundview Park Summer Arts and Music Festival was canceled last year due to COVID-19, the group hopes to bring back the event this summer if permitted.  Ms. Aponte has applied for a grant that would be used toward a monthly series of arts and cultural events, Arts at the Sound, which would include arts and crafts for families, writer's workshops with Bronx authors, and poetry readings at the waterfront featuring Bronx poets. She is keeping her fingers crossed. "I love my community. I love the arts. I love parks. I am blessed to celebrate them all together in this work."

Regina Napoleon-Lindsey is the Executive Director of the Albert C. Wiltshire Employment Center located at the Brooklyn Navy Yard, a mission-driven industrial park that is a nationally acclaimed model for urban development and home to more than 450 businesses. Executing on the Yard's mission to create an equitable business district, Regina's work focuses on ensuring that the hyper-local community surrounding the Yard, including those in marginalized communities, that reside in public housing, and have been involved in the justice system have access to economic activity and the opportunity it creates. During her 3-year tenure, the Yard has connected more than 1,300 New Yorkers to employment opportunities.
Betsy Plum is the executive director of the Riders Alliance, a grassroots membership organization of subway and bus riders dedicated to winning better public transit in New York City. Over the past year, public transportation has carried millions of essential workers to the front lines of our pandemic response, and as New York City moves toward recovery, there is a generational opportunity to ensure New Yorkers have the transit system we have long deserved: one that is reliable, affordable, and world-class. The Riders Alliance is always looking for new members to join their movement, and guarantee that riders have a powerful voice in the decisions that affect us.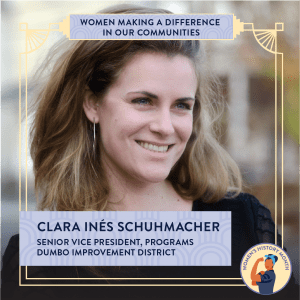 Clara Inés Schuhmacher has been a part of the Dumbo Improvement District since 2015. Part hyper-local chamber of commerce, part neighborhood cheerleader, the Dumbo BID advocates on behalf of Dumbo's small businesses, companies, nonprofits, cultural organizations, artists, residents, and property owners, and works hard to amplify Dumbo's creative and innovative vibe. In her role as Senior Vice President, Programs, Clara helps to tell the individual & collective stories of the neighborhood, supports Dumbo's businesses with planning, advocacy, and marketing resources, and curates and produces cultural programming and public art with and for the neighborhood and its public spaces.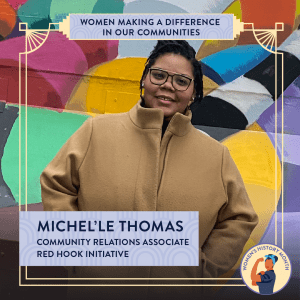 "My name is Michel'le Thomas. I was born and raised in Red Hook, Brooklyn. In the past year, I am truly proud of leading my own Census Team at Red Hook Initiative. I've led a multigenerational/multilingual group of women and contributed to my community's needs at the Red Hook Houses. In the midst of our Census 2020 outreach, we were struck by a global pandemic. The pandemic has led us to change our entire strategy to going virtual. After being virtual, we also responded to each other's needs like lack of food. However, we pushed through the groundwork of providing resources to our community while making top priority to ensure 68% were counted. That's huge for a community like Red Hook where we are isolated from other parts of Brooklyn. I am proud to have led that work and be a part of such an impact that will create resources for my community for the next decade."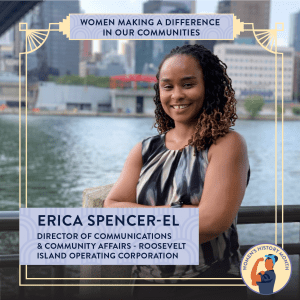 Since 2007, Erica Spencer-EL has served in several distinguished roles at the Roosevelt Island Operating Corporation (RIOC). In addition to her management of the Roosevelt Island Youth Center, Spencer-EL is responsible for the planning, production, and management of all programs that foster positive relationships with community leaders, encourage engagement, and improve the quality of life of Roosevelt Islanders. During her tenure at RIOC, Spencer-EL has been instrumental in launching new events, programs, and sustainable initiatives, while creating positive outcomes for the culture of the island community. Her relationships with New York City and state agencies have remained strong and evolving due to her commitment to collaborative programming and consistent building of new partnerships.
Spencer-EL is a Philadelphia native and graduate of Temple University with a Bachelor of Science degree in Physiology and Sports Science. She is a New York Yankees and New York Rangers fan and a proud mother of four children. She enjoys spending her free time engaged in activities with her children, gardening, and traveling to new places. Spencer-EL believes that true character is built and shown while overcoming adversity and implements that philosophy towards any personal challenge or opportunity for mentoring that comes her way.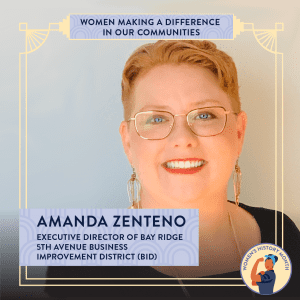 Amanda Zenteno has been fortunate to work in the non-profit world for over 20 years.  Her career has allowed her to help create programming in the arts, adult literacy, and ESOL. Now as Executive Director of the Bay Ridge 5th Avenue Business Improvement District (BID), she works directly with local merchants. BID's are at the forefront of community action for NYC's precious commercial corridors.
Amanda is thrilled to represent the locally-owned shops, restaurants, and services that make 5th Avenue so unique.  Her work has provided guidance and advocacy for the many business owners who have struggled throughout the COVID-19 crisis. Ms. Zenteno is proud of the commitment that local merchants have for their neighborhood and is honored to provide support.  Take the ferry to Bay Ridge and find out for yourself why Amanda loves 5th Avenue.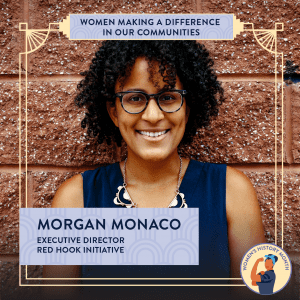 Morgan Monaco has over 13 years of government experience at the intersection of environmental sustainability and social justice. Prior to joining the Red Hook Initiative as the Executive Director, she served as the Deputy Director at the Mayor's Office of Operations. At Operations, she helped to ensure that city government remained accountable to its residents by increasing operational efficiency and managing broad-reaching equity initiatives. She also helped to create OneNYC, which combines sustainability, equity, and resiliency policy into one plan for NYC's future. During her tenure at NYC Parks, she oversaw environmental sustainability initiatives and directed the MillionTreesNYC campaign to plant and care for one million new trees across the five boroughs. Morgan began her career on the Development team at StoryCorps, a national oral history project.
Morgan has a Master's in Public Administration and Non-Profit Management from NYU Wagner, as well as a B.A. in International Studies from Vassar College. She lives in Brooklyn with her husband, a fellow public servant, their son, an avid user of our city's parks and playgrounds, and two cats, Raymour and Flannigan.
Morgan says, "I am inspired by the beauty of the Red Hook community and I feel fortunate to get to work with such strong and resilient people to help bring forth positive change for our future. I work to help inspire the values of reciprocity amongst our young people so that they can grow to envision themselves as co-creators of their lives, community, and society."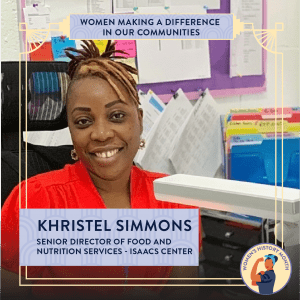 Khristel Simmons is the Senior Director of Food and Nutrition Services at Stanley M. Isaacs Neighborhood Center (Isaacs Center).  She has been an HDM director for 11 years in New York City, working to diminish food insecurities for seniors by providing the resources necessary for them to live a fulfilling and long life independently.  The HDM program is not only a meal delivery program, it is a lifeline to the seniors of New York City who worked to build its very foundation.  During the health crisis, Khristel has worked tirelessly to ensure both service continuity and expansion to accommodate rapidly growing needs across the City.  The Isaacs Center created, funded, and adopted a community kitchen model to deliver additional meals to seniors who needed them — this includes Meals on Wheels recipients, senior center members who rely on congregate meals, and our under 60 neighbors in need.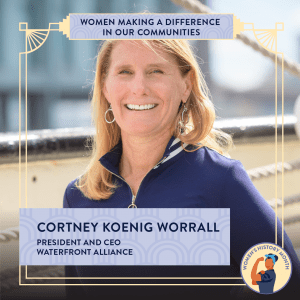 Cortney Koenig Worrall joined the Waterfront Alliance in the summer of 2020 as president and CEO. Prior to the Waterfront Alliance, Cortney worked for more than six years as the Northeast Senior Regional Director for the National Parks Conservation Association (NPCA). Among her many achievements, she developed and led the campaign for Stonewall National Monument, which was designated by President Obama in June 2016. She crafted NPCA's northeast strategy for the campaign to reduce the $12B maintenance backlog affecting national parks — one of many nationally executed campaigns leading to the passage of the Great American Outdoors Act in 2020.
Cortney came to NPCA by way of the Waterfront Alliance where she served as the organization's chief operating officer from 2009–2013.  During that time she developed waterfront policy for the 2010 New York City Comprehensive Waterfront Plan, executed the Waterfront Alliance's strategy for a five-borough ferry service for New York City, and launched the development of the award-winning WEDG® (Waterfront Edge Design Guidelines) for the New York-New Jersey Harbor. Early in her career, Cortney worked in engineering consulting, specializing in state and federal stormwater regulations.
Cortney earned her Bachelor of Arts in environmental policy from Mount Holyoke College and her Master of Public Administration in advanced management from Columbia University's School of International and Public Affairs. As an avid swimmer, Cortney enjoys open water swimming; camping; exploring topics in climate change, human evolution, earth science, and U.S. history; wine; sewing; and spending time outdoors with her family and two daughters and nephews.