January 27, 2023
Happy National Pizza Day!
There's nothing quite like a classic New York slice of pizza. Pizzerias all over the world try to emulate the New York slice but nothing comes close to the real thing. Many of New York's pizzerias are family-run and have been around for decades. Let's support these small businesses and keep them around for generations to come!
To celebrate National Pizza Day, we've put together a list of all the pizzerias that you could find within walking distance of our NYC Ferry landings. Take a ride with NYC Ferry and see how many different pizzerias you can support along our routes.
PIZZERIAS TO SUPPORT NEAR NYC FERRY LANDINGS
WALL ST./ PIER 11 LANDING:
Justino's Pizza – 77 Pearl St, New York, NY 10004
Neapolitan Express – 40 Wall St, New York, NY 10260
Underground Pizza – 2615, 3 Hanover Square, New York, NY 10004
Pranzo Pizza & Pasta – 34 Water St, New York, NY 10004
Cucina Bene Pizza – 41 Exchange Pl, New York, NY 10005
Adrienne's Pizza Bar – 54 Stone St, New York, NY 10004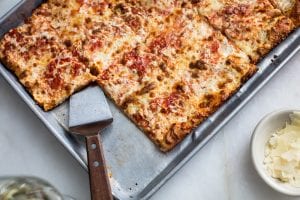 (Photo: Adrienne's Pizzabar — Wall Street / Pier 11)
ST. GEORGE LANDING:
A & S Pizza – 87 Stuyvesant Pl, Staten Island, NY 10301
Pier 76 – 76 Bay St #2511, Staten Island, NY 10301
Marie's 2 – 5 Hyatt St, Staten Island, NY 10301
BATTERY PARK CITY LANDING:
Picasso Pizzeria – 303 South End Ave, New York, NY 10280
Hank's Pizza – 110 Cedar St, New York, NY 10006
Siena Pizza – 14 Rector St, New York, NY 10006
CORLEARS HOOK LANDING :
Alphonso's Pizzeria Trattoria – 525 Grand St, New York, NY 10002
A-1 Pizza Shop – 505 Grand St, New York, NY 10002
Saluggi's East – 399 Grand St, New York, NY 10002
Scarr's Pizza – 22 Orchard St, New York, NY 10002
Columbia Pizza – 51 Columbia St, New York, NY 10002
STUYVESANT COVE LANDING :
La Pizza Italia – 201 Avenue A, New York, NY 10009
East Village Pizza – 145 1st Avenue, New York, NY 10003
Motorino – 349 E 12th St, New York, NY 10003
Tony's Famous Pizza – 231 1st Avenue, New York, NY 10003
Numero 28 Pizzeria – 176 2nd Ave, New York, NY 10003
Posto Thin Crust – 310 2nd Ave, New York, NY 10003
Joe's Pizza – 150 E 14th St, New York, NY 10003
Lunetta – 245 3rd Ave, New York, NY 10010
2 Bros Pizza – 32 St Marks Pl, New York, NY 10003
Artichoke Basille Pizza – 321 E 14th St, New York, NY 10003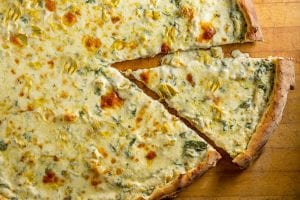 (Photo: Artichoke Basille's Pizza — Stuyvesant Cove)
34TH ST. LANDING:
Rocky's Pizzeria – 607 2nd Ave, New York, NY 10016
Vezzo Thin Crust – 178 Lexington Ave, New York, NY 10016
Brick Oven Pizza 33 – 489 3rd Ave, New York, NY 10016
DUMBO LANDING:
Front Street Pizza — 80 Front St, Brooklyn, NY 11201
Juliana's — 19 Old Fulton St, Brooklyn, NY 11201
Ignazio's — 4 Water St, Brooklyn, NY 11201
Love and Dough — 57 Pearl St, Brooklyn, NY 11201
Fascati Pizza — 80 Henry St, Brooklyn, NY 11201
Grimaldi's Pizzeria — 1 Front St, Brooklyn, NY 11201
NORTH WILLIAMSBURG LANDING:
Shelter — 168-170 Wythe Ave, Brooklyn, NY 11249
Krispy Krust — 175 Kent Ave, Brooklyn, NY 11211
Anna Maria Pizza & Pasta — 179 Bedford Ave, Brooklyn, NY 11211
Two Boots Williamsburg — 558 Driggs Ave, Brooklyn, NY 11211
Joe's Pizza — 216 Bedford Ave, Brooklyn, NY 11249
Di Fara Pizza — 103 N 3rd St, Brooklyn, NY 11249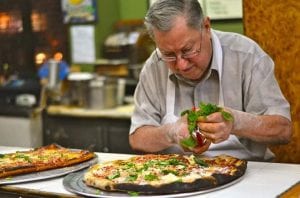 (Photo: Di Fara Pizza — North Williamsburg)
SOUTH WILLIAMSBURG LANDING:
Motorino — 139 Broadway, Brooklyn, NY 11211
L'industrie Pizza — 254 S 2nd St, Brooklyn, NY 11211x
Zeff's Pizzeria — 312 S 3rd St, Brooklyn, NY 11211
Roebling Pizza — 326 Roebling St, Brooklyn, NY 11211
Leo Pizzeria — 123 Havemeyer St, Brooklyn, NY 11211
Sabrina's — 294 Broadway, Brooklyn, NY 11211
Emmy Squared — 364 Grand St, Brooklyn, NY 11211
GREENPOINT LANDING:
Paulie Gee's — 60 Greenpoint Ave, Brooklyn, NY 11222
Franklin Pizza — 109 Franklin St, Brooklyn, NY 11222
Fornino — 849 Manhattan Ave, Brooklyn, NY 11222
Triangolo Pizzeria — 1017 Manhattan Ave, Brooklyn, NY 11222
Mario's Pizza — 940 Manhattan Ave, Brooklyn, NY 11222
HUNTERS POINT SOUTH:
sLICe — 48-11 Vernon Blvd, Long Island City, NY 11101
Centro Pizza Bar & Italia Kitchen — 47-23 Vernon Boulevard Long Island City, New York 11101
ROOSEVELT ISLAND:
Piccolo Trattoria Ristorante Pizzeria — 455 Main St, New York, NY 10044
BROOKLYN BRIDGE PARK PIER 6 / ATLANTIC AVENUE:
My Little Pizzeria — 114 Court St, Brooklyn, NY 11201
Piz-zetta Pizzeria— 90 Livingston St, Brooklyn, NY 11201
Dellarocco's — 214 Hicks St, Brooklyn Heights, NY 11201
Pronto Pizza — 139 Court St, Brooklyn, NY 11201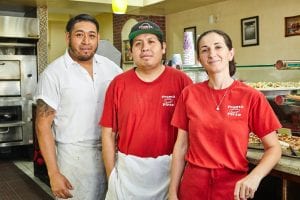 (Photo: Pronto Pizza — Brooklyn Bridge Park Pier 6)
ASTORIA:
Brother's Pizzeria — 3050 14th St, Astoria, NY 11102
S&S Calabro Pizzeria — 30-65 14th St, Astoria, NY 11102
BROOKLYN NAVY YARD:
Pizza Yard — 141 Flushing Ave BLDG 77, Brooklyn, NY 11205
Il Porto Ristorante & Wood Fired Pizza – 37 Washington Ave, Brooklyn, NY 11205
LONG ISLAND CITY:
sLICe — 48-11 Vernon Blvd, Long Island City, NY 11101
EAST 90TH STREET:
Roma Pizza — 1701 1st Avenue, New York, NY 10128
Arturo's Pizza — 1610 York Ave, New York, NY 10028
Gotham Pizza — 1667 1st Avenue, New York, NY 10028
Pizza City — 1760 1st Avenue, New York, NY 10128
San Matteo — 1739 2nd Ave, New York, NY 10128
ROCKAWAY:
Whit's End — 97-02 Rockaway Beach Blvd, Far Rockaway, NY 11693
Ciro's — 11303 Beach Channel Dr, Far Rockaway, NY 11694
Pizza D'amore — 208 Beach 116th St, Queens, NY 11694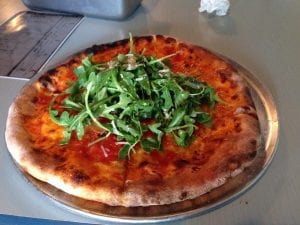 (Photo: Whit's End — Rockaway)
RED HOOK:
Mark's Red Hook Pizza —326 Van Brunt St, Brooklyn, NY 11231
Hoek Pizza — 117 Ferris St, Brooklyn, NY 11231
BAY RIDGE:
Rocky's & Nick's Pizzeria — 6824 Colonial Rd #1, Brooklyn, NY 11220
Bella Roma Pizza Corp — 7022 3rd Ave, Brooklyn, NY 11209