December 12, 2022
UPDATE January 27, 2023: Governors Island Landing (Planned Closure for Maintenance) 
Dear NYC Ferry Rider,
The landing used for NYC Ferry service at Governors Island has been out of service this winter for planned maintenance. While we originally anticipated NYC Ferry service restoration by the end of January, the Trust for Governors Island anticipates the barge will be back in place and NYC Ferry service will resume toward the middle or end of February.
During this time, NYC Ferry's South Brooklyn route will continue to bypass Governors Island in both directions. For service to Governors Island in the interim, please take the Governors Island ferry from Battery Maritime Building in Lower Manhattan. Ticket and schedule information may be found here: govisland.org/ferry.  Once we learn of an opening date, or if there are any further changes to the schedule, we will provide an update. Thank you for your patience.
To view the temporary South Brooklyn Schedule click here | SB Temporary Schedule Effective Dec 19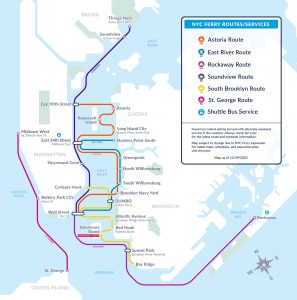 Thank you for your patience.
NYC Ferry